National event Jheronimus Bosch 500
The glue that holds people together is the dynamic of a city and we believe in the vision that 'everyone in the city sells the city'. This includes all industries, politics and other parties. Focusing on the city in a holistic manner and working together, a shared and common strategy to reach economic development and welfare for inhabitants, visitors and companies within cities, that's what it is all about. Reaching a balance between those three key elements determines the soul of the city.
'It is estimated that by 2050 over two-thirds of the world's population will live in cities. This will force cities to reimagine themselves as brands rather than just destinations to be marketed. As a result, cities will rise in importance over nation brands.'
Dawn Paine,
The Extraordinairy Club
In 2009 when Studio Kluif was invited together with two other top Dutch Design agencies, to give our vision about the Jheronimus Bosch 500 event, we didn't hesitate for a moment. A pitch for a manifestation of this magnitude to take place in our own city, 's-Hertogenbosch, was a dream opportunity.
Studio Kluif seized this opportunity. With our winning presentation of a 360 degree communication plan, the multi-year manifestation literally came to life.
In Jheronimus Bosch's time, the members of the Illustre Lieve Vrouwe Broederschap (Confraternity of Our Illustrious Lady) regularly met at the Zwanenbroedershuis (Swan Brothers' House) where they offered fellow brothers and the inhabitants of 's-Hertogenbosch a meal for them. Bosch the painter was a member of this confraternity. To emphasise the hospitality of the members, a Zwanenbroedersmaal (Swan Brothers' Dinner) was regularly laid on. 500 years later, people will once again be dining together, though this time around it will be 500 inhabitants of 's-Hertogenbosch.
Inhabitants of 's-Hertogenbosch neighborhoods will offer farmers, urbanites, and villagers a meal on the city's central square, the Markt. Inhabitants with culinary aspirations from various neighborhoods will compete to impress 500 guests and an expert jury.
From 2010 on, a contemporary procession of artistic creations travels 's-Hertogenbosch's waterways every third week in June. A parade that does justice to Jheronimus Bosch's creativity. The audience will be able to watch the floating, paddling, and wading procession from the banks and a number of stands. Professional makers – artists, designers, composers, directors, choreographers, etc. – will get their inspiration from Bosch's work and ideas.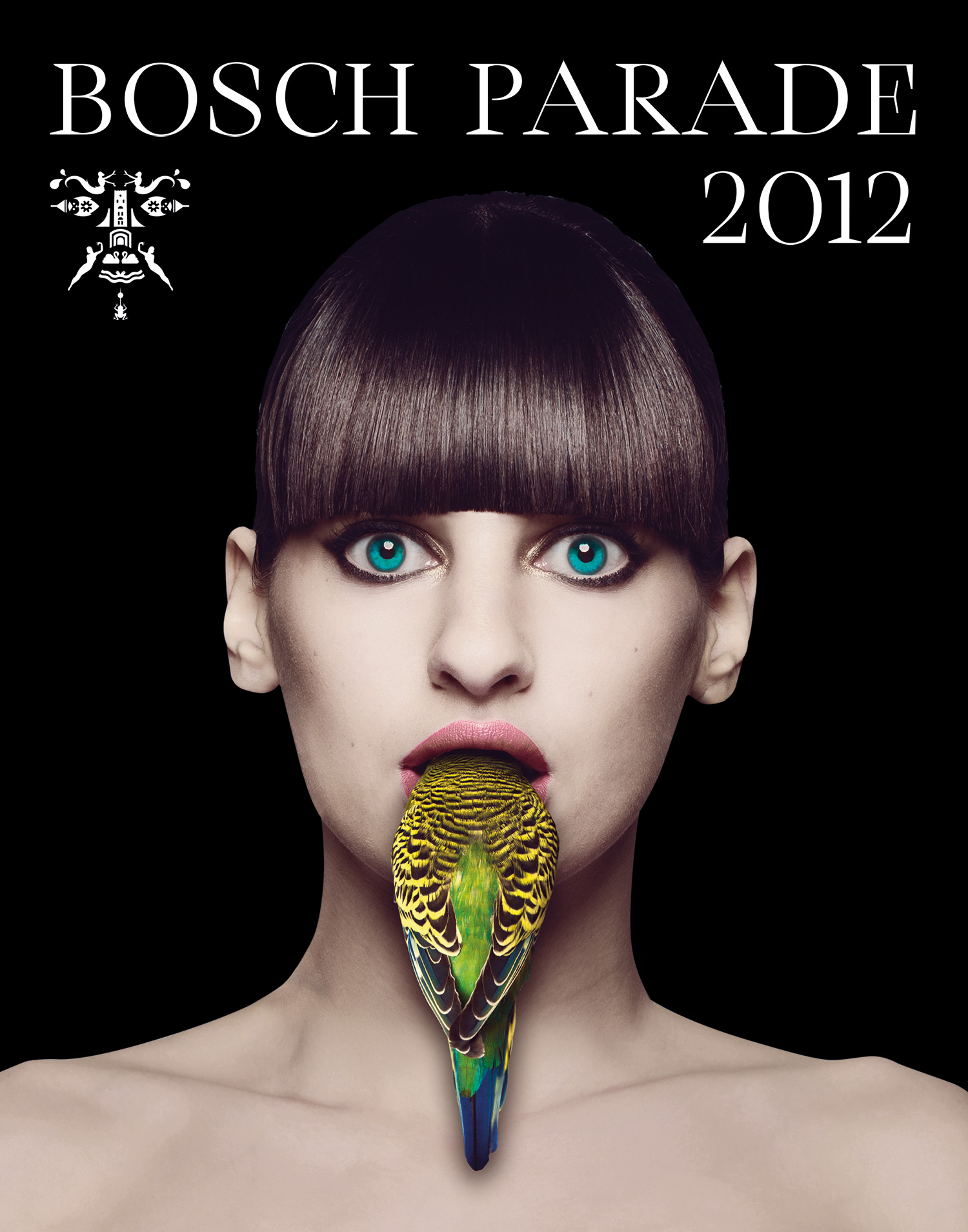 BAF – Bosch Art Film Festival
During Bosch Art Film (BAF), visual artists and designers choose from the wide range of films, documentaries and videos about visual art and artists. A film program in which old and new productions, often rare or never seen in the Netherlands.
With an alienating visual language, where a simple repetition of the eyes and mouth in the portraits suggest movement, Studio Kluif has literally given the festival a face.
For another edition of the festival, a face was provided with a mix of different alienating graphic elements.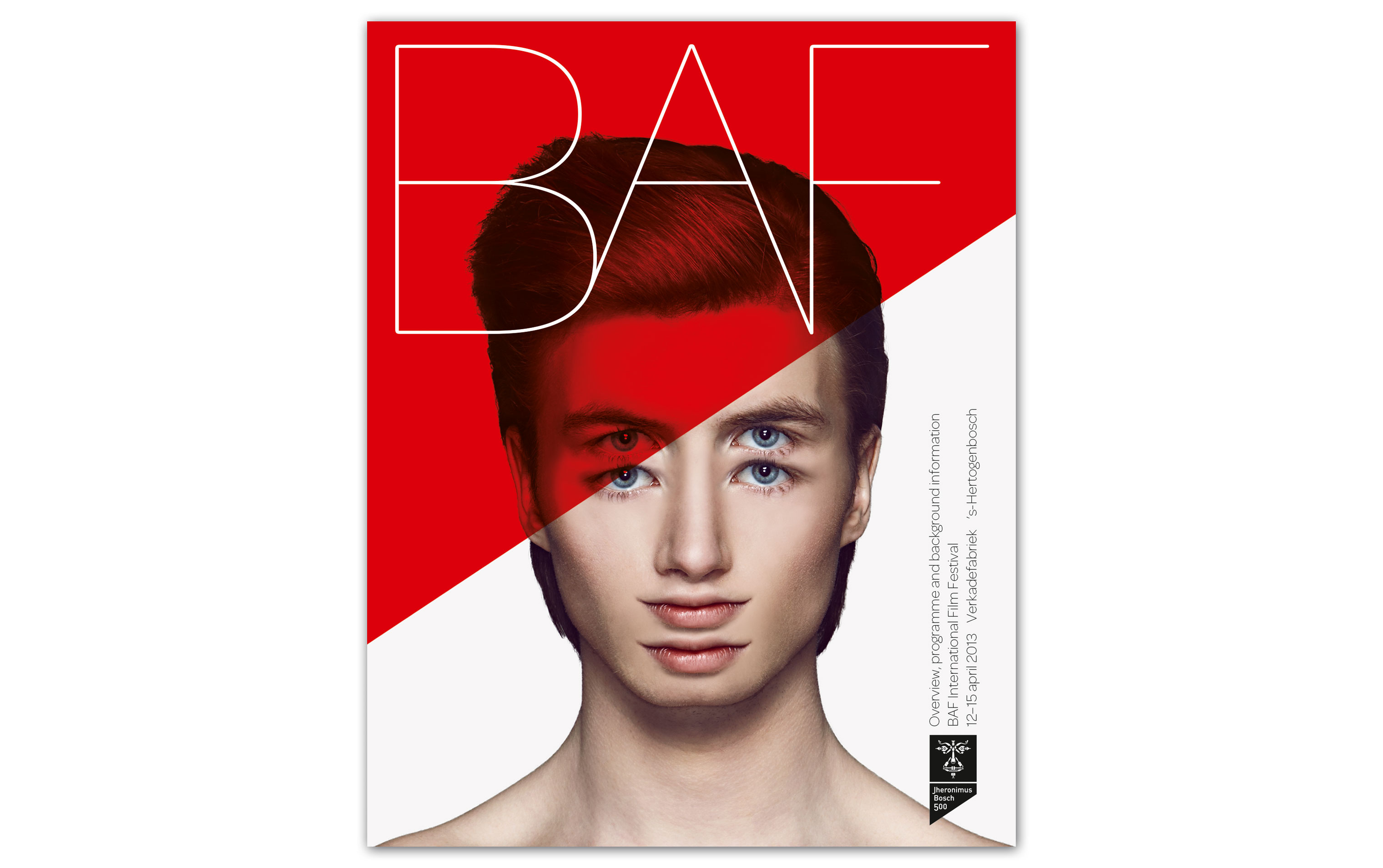 BYTS – Bosch Young Talent Show
As part of the 'Jheronimus Bosch 500'-project Studio Kluif designed all the graphics for the Bosch Young Talent Show (BYTS). This big art event takes place in the AKV St. Joost art school in 's-Hertogenbosch. Especially for BYTS, a group of around 40 international, young artists from all the Bosch-cities (like Paris, London, New York, Berlin, etc.) have been invited to The Netherlands to give the public an insight of what's happening in the contemporary art scene.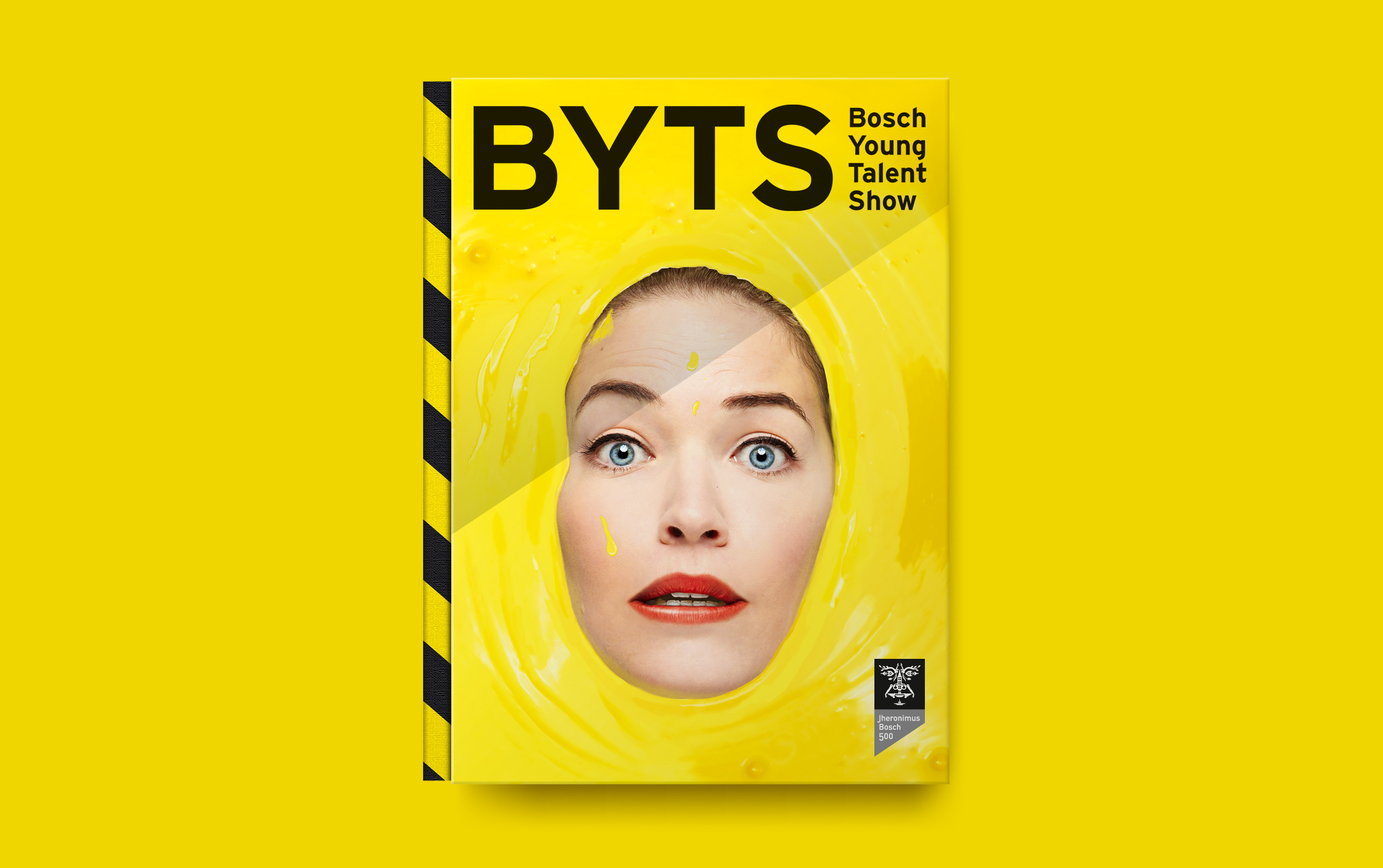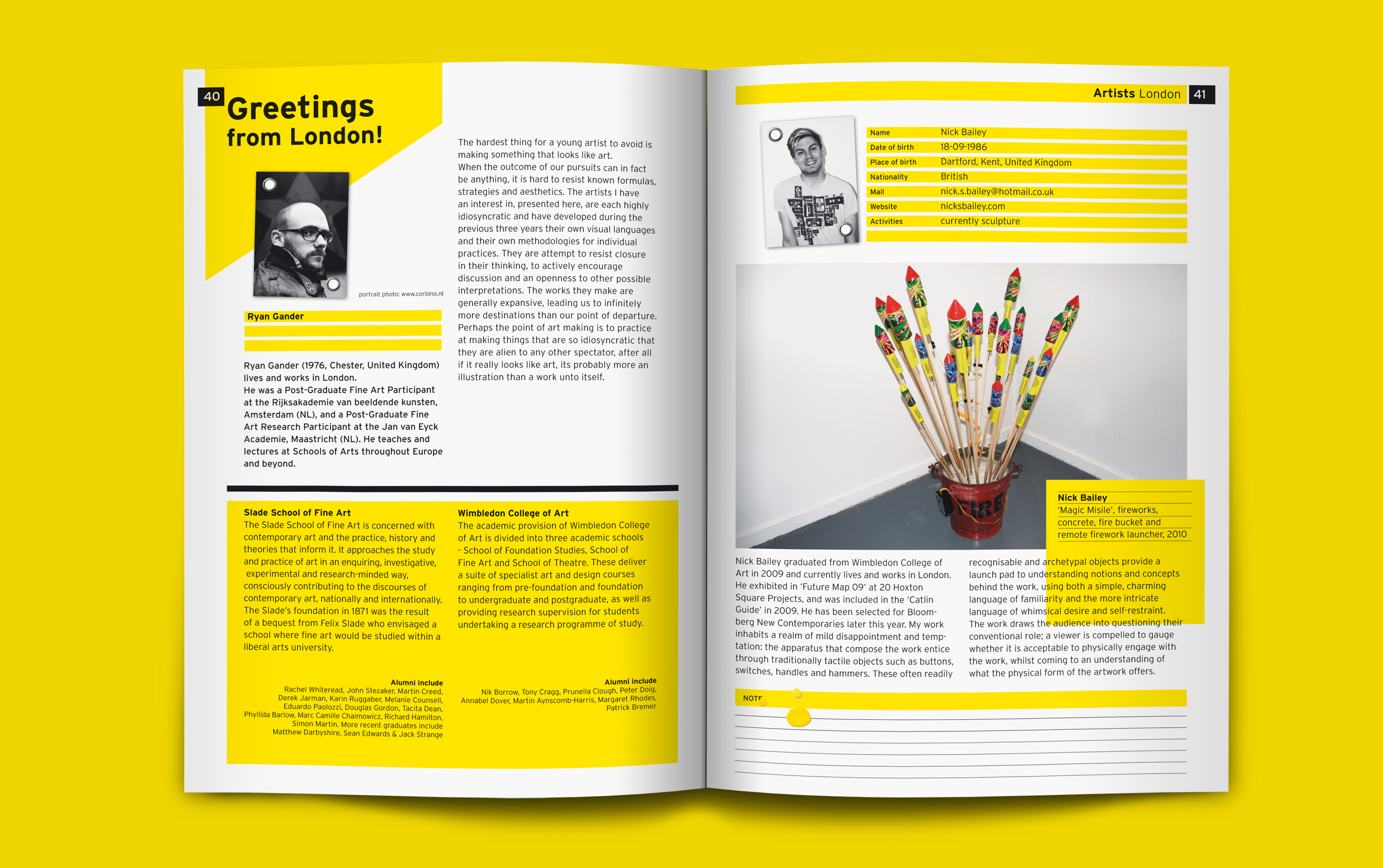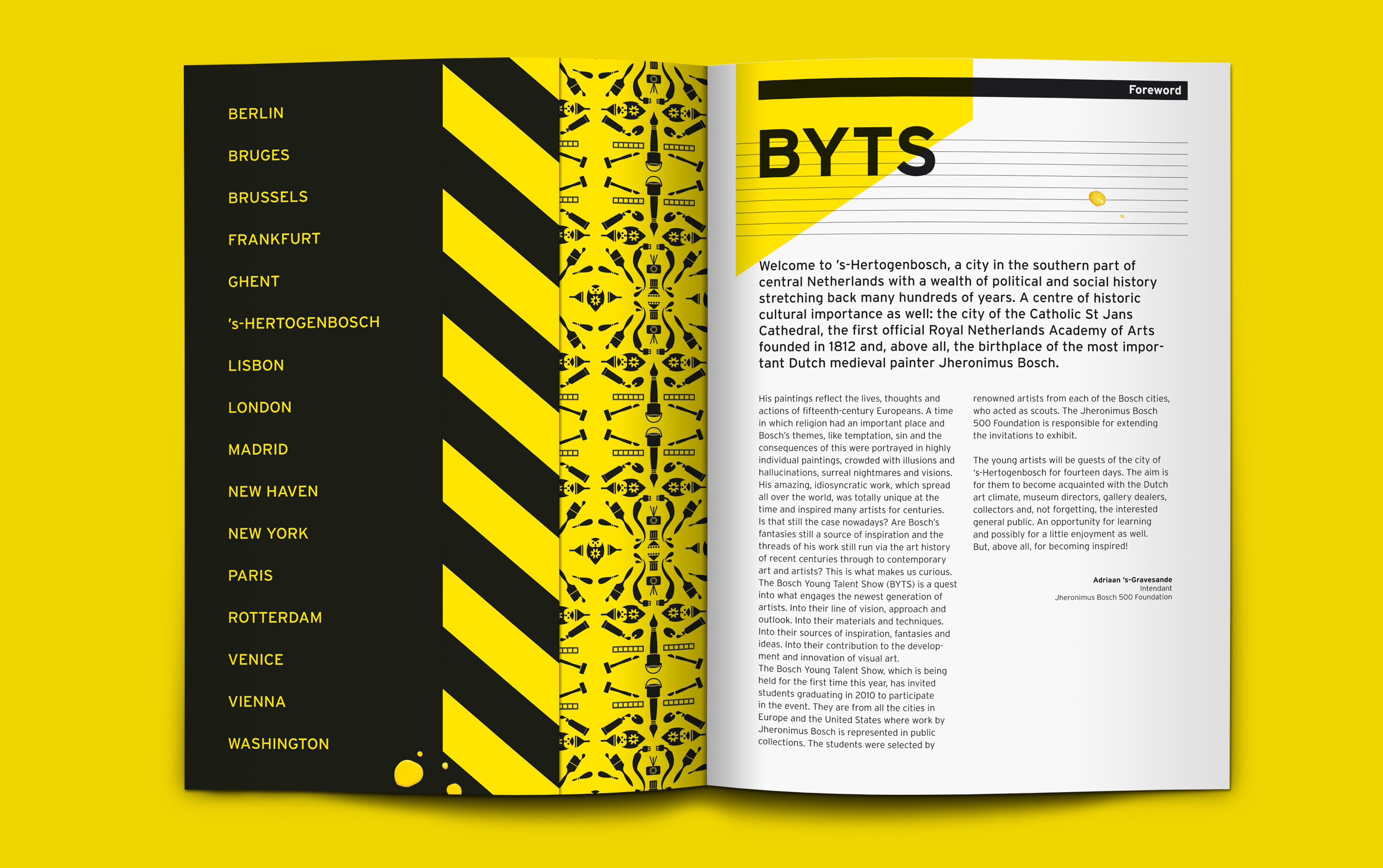 The Illustrious Lady Fraternity, of which Jheronimus Bosch was a part, commemorated 4 times a year, including 'Allerzielen' – the fallen brothers. From 2010, this tradition will be restored with an annual concert in St. John's Cathedral in 's-Hertogenbosch. Every year a requiem is performed, each year from a different style period. As an intermezzo, well-known writers, (art) historians and other prominent present their 'Jheronimus Bosch Essay'.
X-rays of various flowers give a skeletal appearance to the symbol of transience, a multifaceted a recurring theme in the work of Jheronimus Bosch. As a counterpart to the somewhat gloomy black and white images, each year gets its own accent color.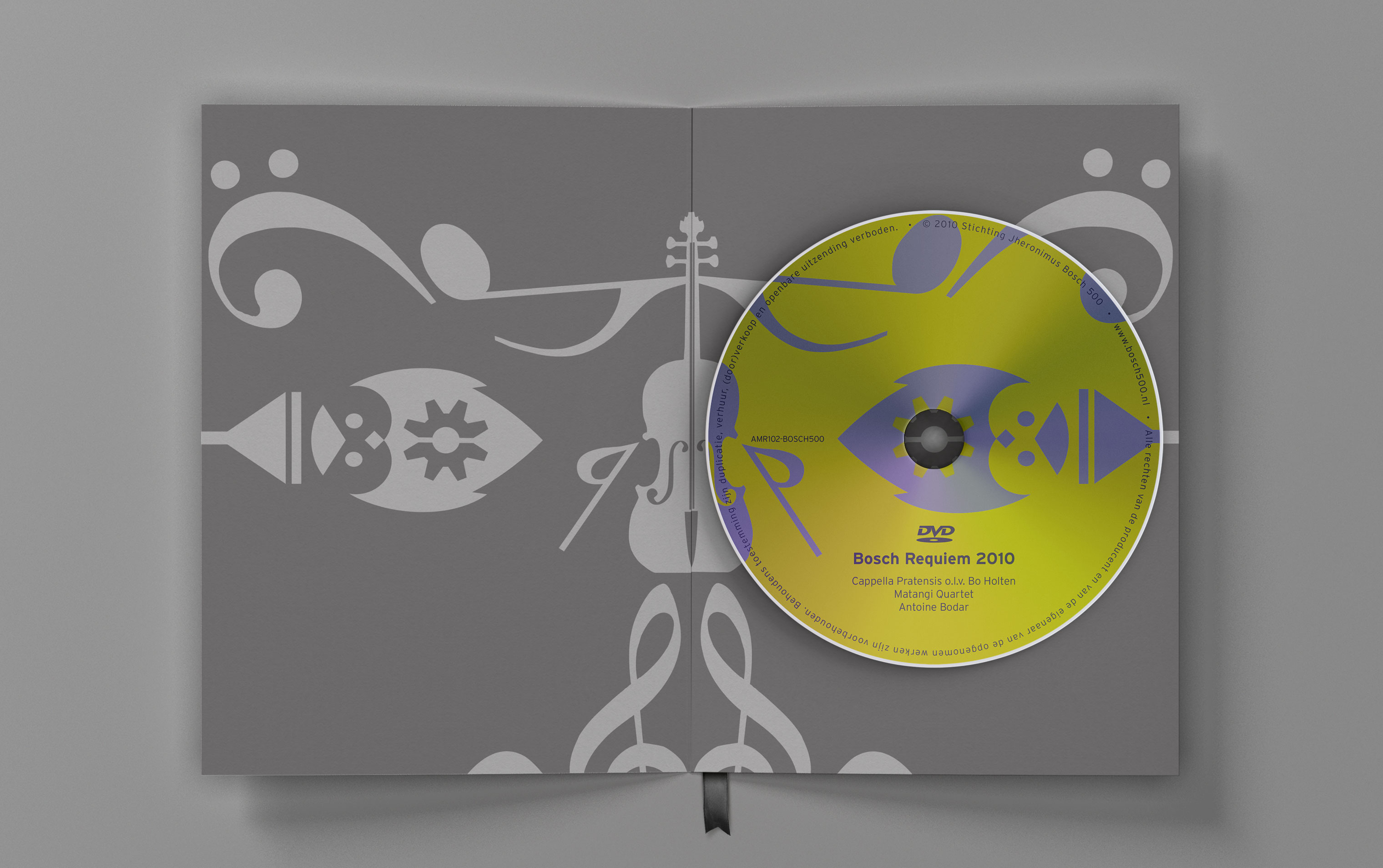 In the context of the celebration of the five hundredth anniversary of the death of Jheronimus Bosch, a sheet of 10 stamps has been issued by PostNL. The stamp sheet shows a cut-out of the central panel of the triptych 'The Haywain'. The cut-out is placed over the ten stamps in such a way that each stamp depicts a scene that in turn forms part of the larger story that Jheronimus Bosch has painted. The scenes that take place on each individual stamp have been described by Jos Koldeweij, professor of Art History of the Middle Ages at Radboud University Nijmegen and a great connoisseur of Bosch's work.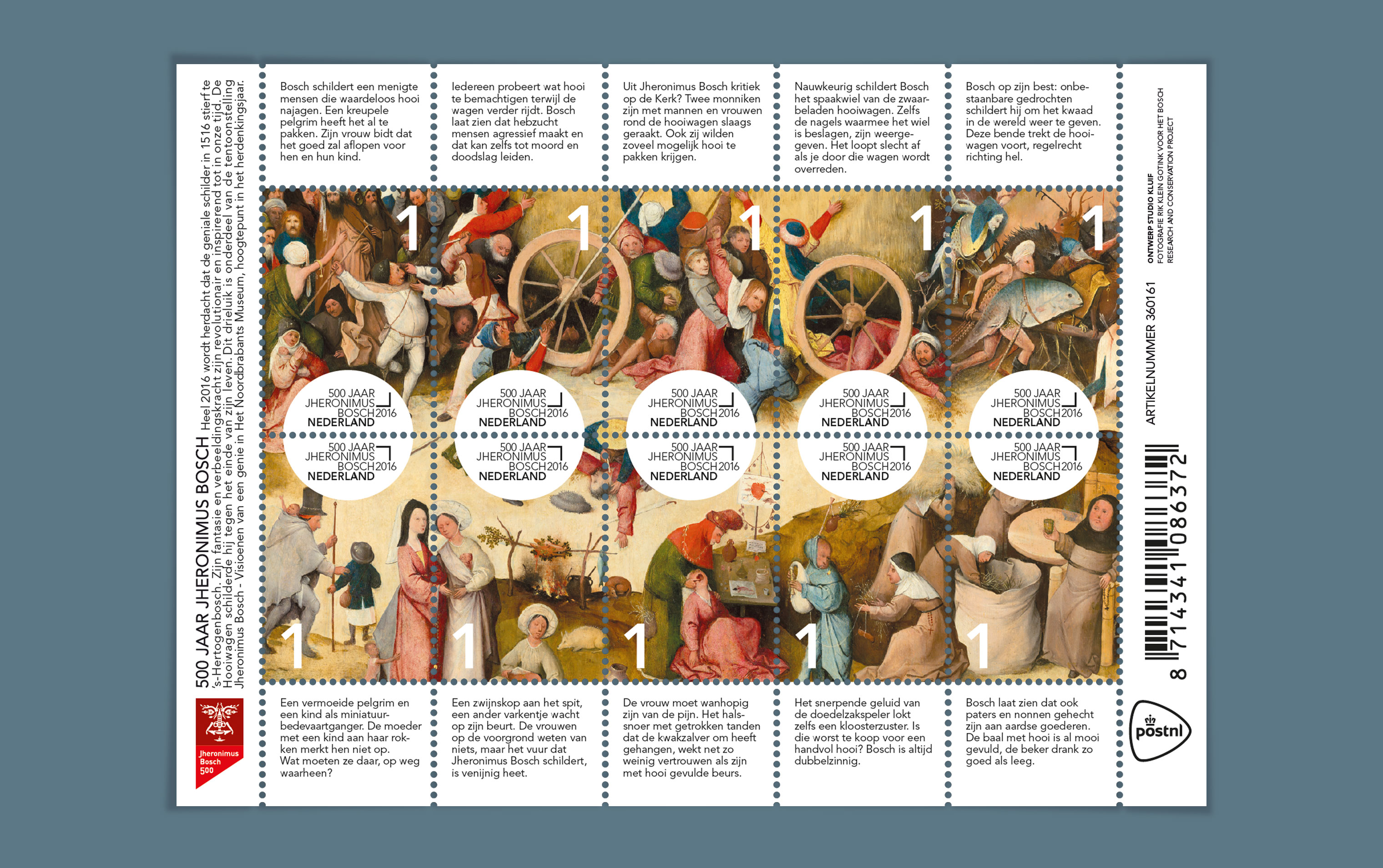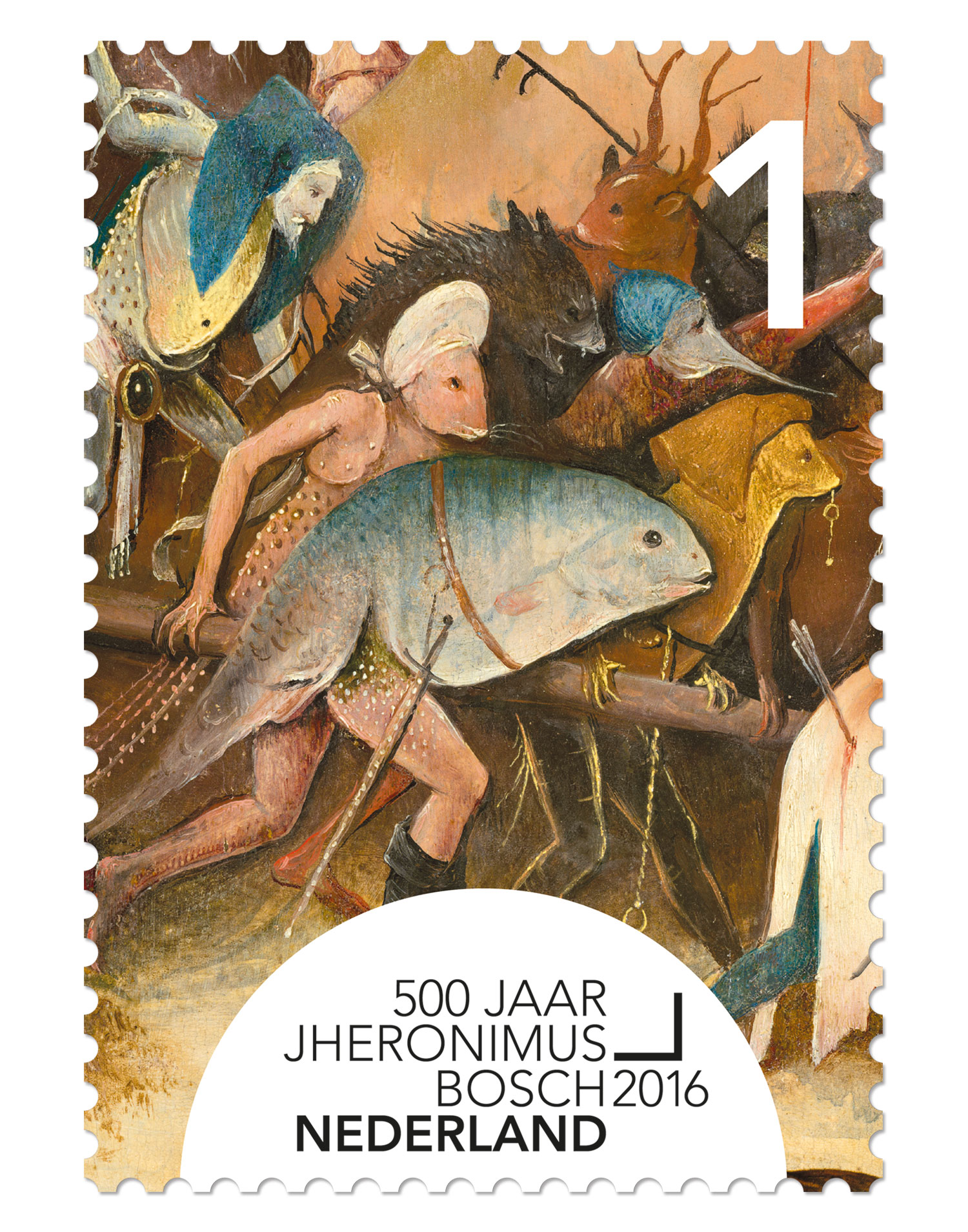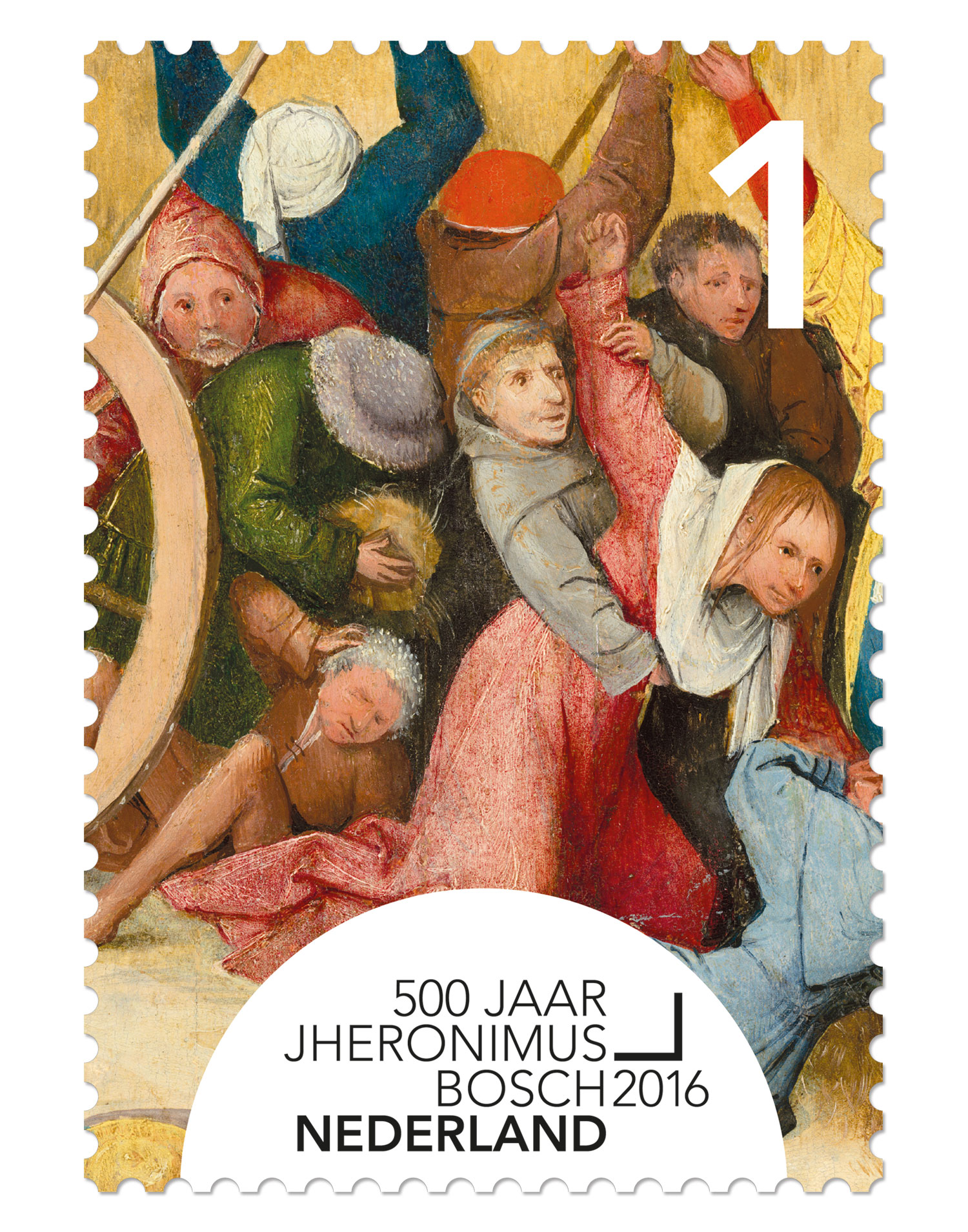 The atmosphere, themes and symbolism of his work are timeless. From this perspective, jHEROnimus has been created. The brand focuses on the development of contemporary products inspired by the work of the artist.
Think of a collection of textiles, wallpaper, lighting, bags, clothing accessories and more. Everything with the unique jHEROnimus-feeling and the quality of an A-brand, supported by the organization behind the Jheronimus Bosch 500 event. The products are not only sold in museum-shops around the world, but also by numerous international retailers.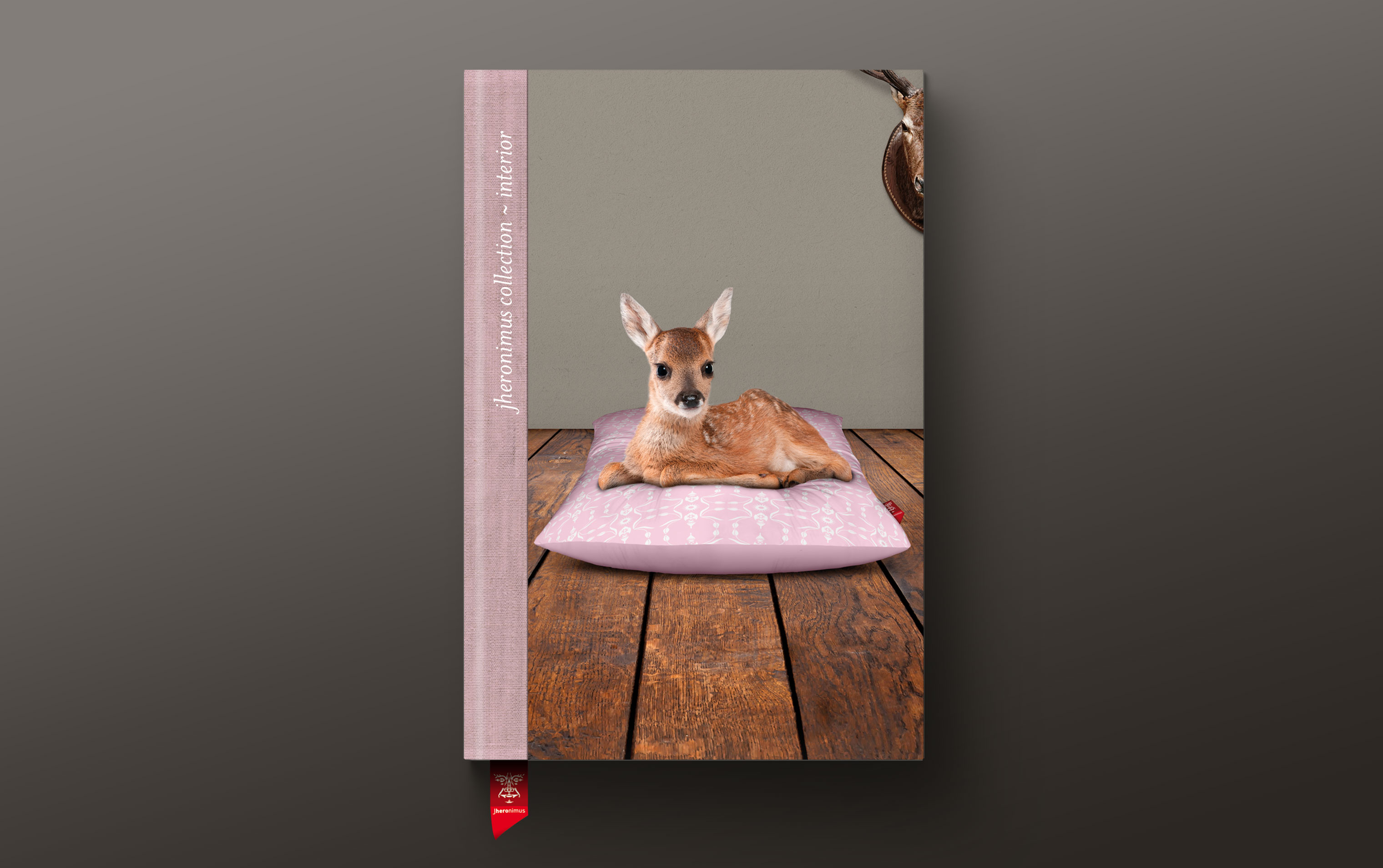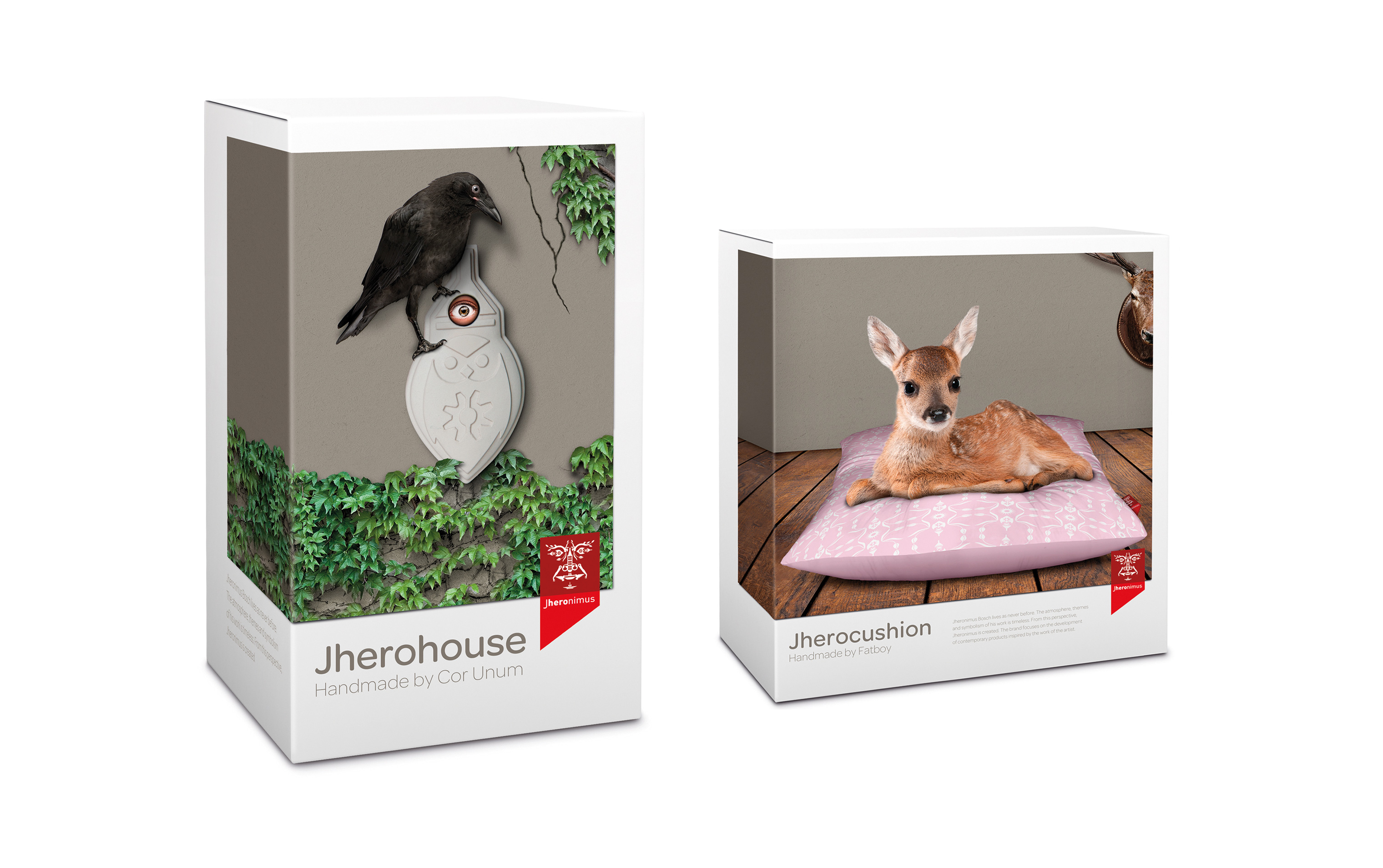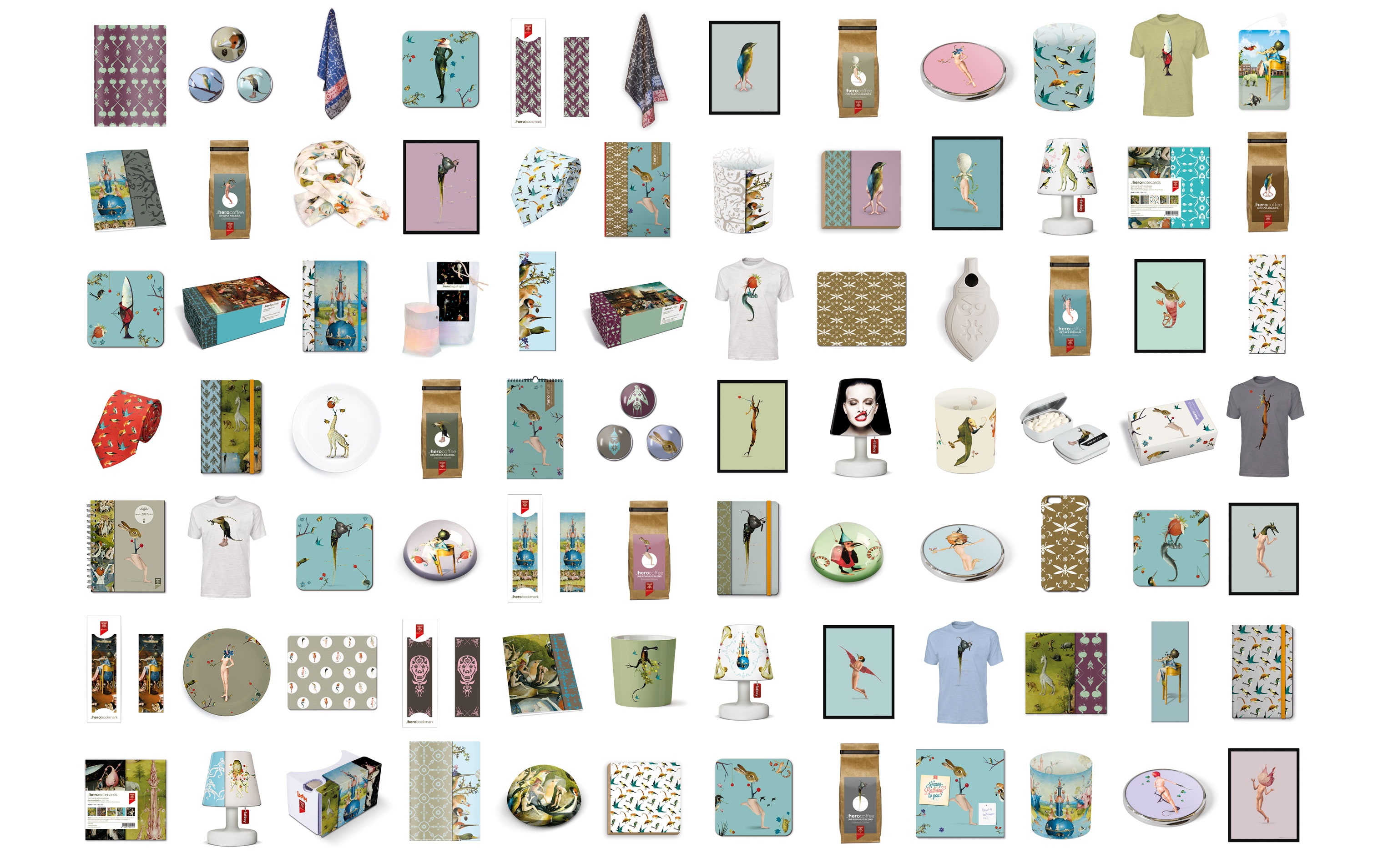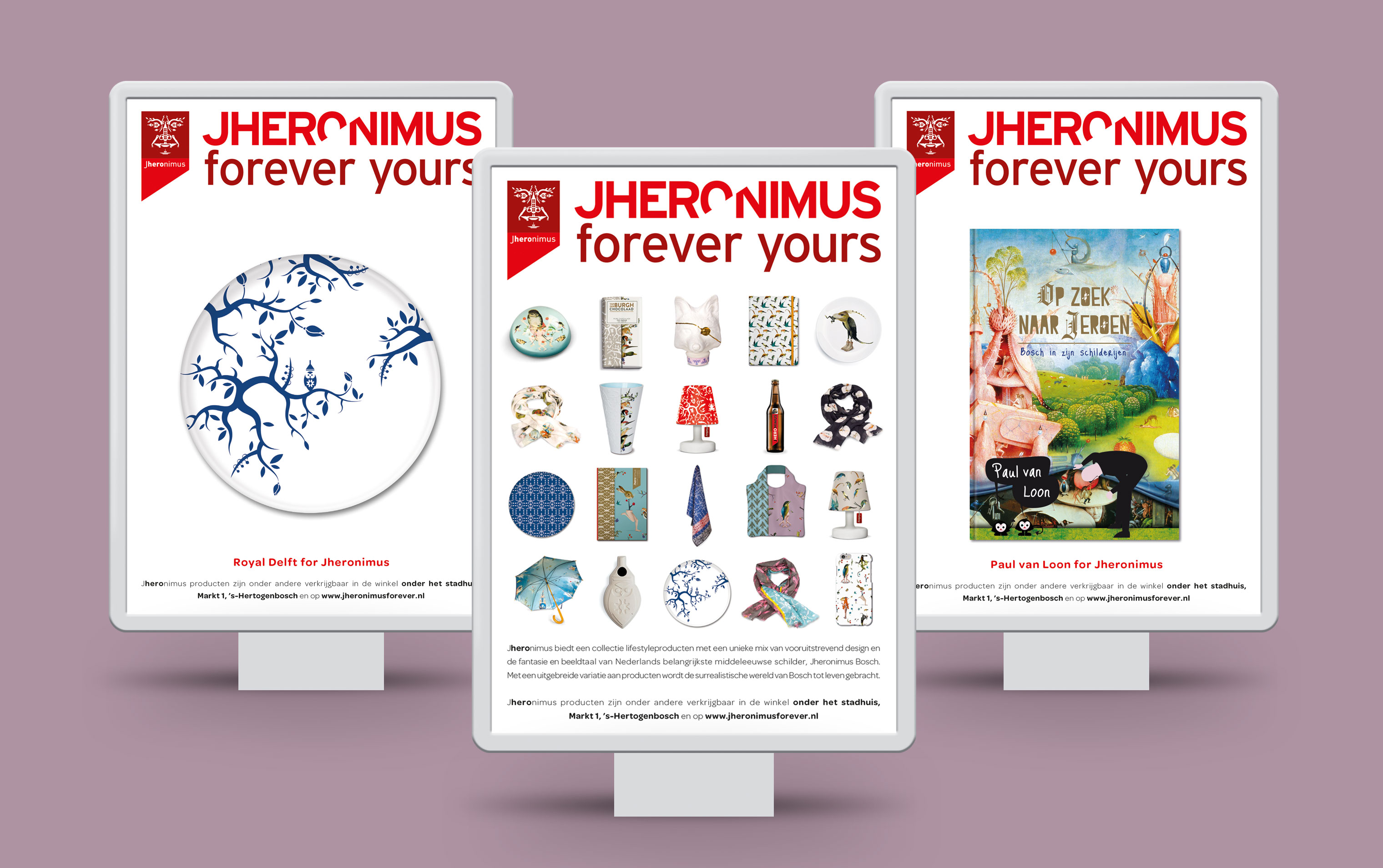 Facts & Figures National event Jheronimus Bosch 500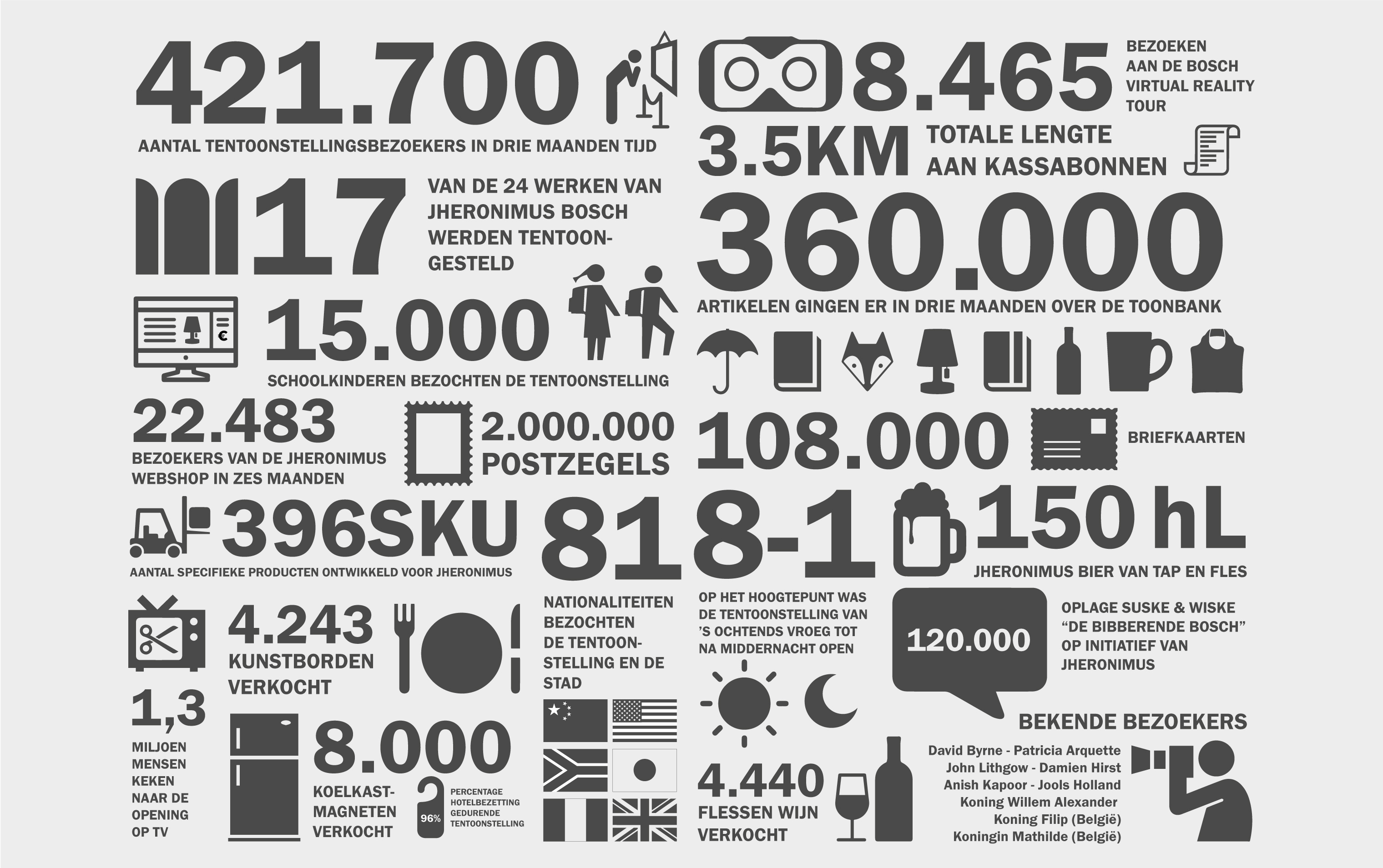 Jheronimus Bosch 500 Event
Communication Prize Brabant
Jheronimus soap packaging
Nomination Pentawards
Jheronimus Van Den Burgh Chocolate packaging
Gold Pentaward
Jheronimus private label packaging range
Platinum Pentaward
Nomination ADCN prize member jury
Nomination ADCN prize professional jury
Jheronimus Bosch 500 corporate identity
Wolda Merit Award
We've developed city marketing projects for Dordrecht, Gouda, 's-Hertogenbosch, Amstelveen, Ede and the province of Flevoland.
Are you looking for a marketing agency for your village, city or region? Send an email to: info@studiokluif.nl and we will quickly make an appointment.